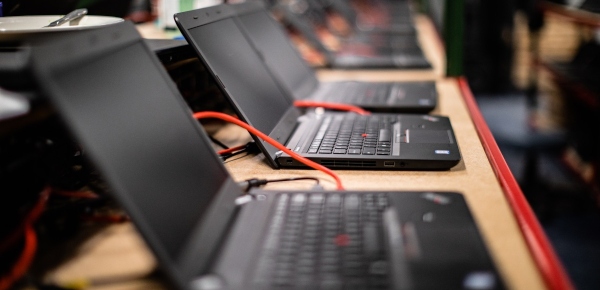 We've been renting laptops for nearly two decades now. And we can't count the number of times we've picked up the phone to hear, "Can you help me? The company I was working with cancelled my laptop rental, and my event is in three days!"
Even though we're happy to help, we never like hearing about cancelled orders and other worst-case-scenarios. (They stress us out, too!) That's why we decided it would be helpful to share what we've heard from our customers so you can avoid pitfalls. Below, we've put together 10 questions to always ask before renting laptop computers — whether from us or someone else.
Like any industry, some rental companies will be more reliable and established than others. But when you know the answers to these questions, you can be confident you've picked the right partner and that your rental will go off without a hitch.
1. When was the last time you cancelled an order?
Make sure your order — whether it's 10 laptops or 1,000 — is going to show up, no matter what.
Be sure to ask your rental company, "What happens if you run out of inventory?" All rental companies should have clear back-up plans in place, and should promise they'll never cancel your order and leave you in a lurch.
2. What happens if FedEx, UPS, or another carrier delays my delivery?
One time, our Event Support team discovered FedEx was going to deliver 10 Macbooks late due to extreme weather in Florida. We hired a local technician in the area to go purchase 10 new Macbooks and deliver them to our client's event. If there's ever a delay, we find another way — no matter what.
FedEx and other carriers can't 100% guarantee on-time delivery, so it's important your rental company takes responsibility and has back-up plans in place for on-time delivery. Make sure there's a team proactively tracking your order, and that they'll work directly with the shipping company or will find another way if a hiccup arises.
3. What condition are your laptops in?
The last thing you want front and center is a laptop that looks like it was used as a bowling ball. Or worse: One that stops working.
Most rental laptops have been used before, but feel free to check in about the look and wear of them, and request if you need them to be in especially good condition.
You will also want to check how many spares your rental provider sends with your order — just in case. We always send spares, because we know the stakes are too high for you not to have some backups.
4. What happens to my data and files once I return my laptops?
Make sure your IT or security team doesn't have to have nightmares, either. Your rental company should always re-image all hard drives before renting your laptops to another customer. Re-imaging means completely erasing a hard drive, not just deleting your files and uninstalling programs off it.
For added protection of critically sensitive data, we can also wipe hard drives through the US Department of Defense's DoD 5220.22-M method, which is a well-known standard in the world of data security. Your IT department will let you know if this is required in your company's security policy.
5. How do I know my customization is going to be right?
When you open a laptop on the first day of your rental, you need it to act exactly how you expect it to. Otherwise, you'll have dozens of laptops — that don't work the way you need them to, possibly making them useless. (Yikes.)
Customization can get complicated, and we've learned that not every company has the capacity to get it right across thousands of laptops.
The way we ensure your customization works correctly is we have specialists who have tons of experience and speak the same technological language as you. We always make sure your laptop is fast and powerful enough to run the software you need. Finally, we send you a tester laptop or give you a remote login so you can test everything out before we apply that customization to the rest of your order.
6. Do you have technical staff who can set up these laptops for me?
On the day of your event, you'll probably be too busy to setup or troubleshoot.
Ask if your rental provider can send a technician to help set-up or monitor your laptops for any issues. Having a highly qualified laptop technician on-hand can take a load of stress off your plate, and keep things running smoothly.
7. Do you have accessories?
Here's an alarming scenario: Your laptops arrive, but you don't have a network switch to plug your ethernet cord into like you had planned.
Accessories are a key part of making a laptop rental a seamless experience. Check to see which accessories are included, and which ones you'll need to request separately.
Here are some popular accessories to ask about: Network switches, cable locks, printers, monitors, and mice.
8. How can I be sure you're offering the best price?
It's always ok to ask about pricing! We know it can be confusing. One thing that helps is comparing quotes apples-to-apples rather than just one big number, so you see exactly what you're getting in each quote, and where the differences lie.
One way we let our customers know they're receiving the best price is our Best Price Guarantee. If you do find another company who is providing the same order for a lower price, we will beat that quote by 5 percent.
9. What happens if I need to place this order multiple times?
Will your rental company keep all your customizations on file, or will you need to start over again if you ever need to repeat your order? Is there one person you'll always work with, or will you need to meet someone new every time? Finally, will your rental company work to improve each order?
We specialize in consistent and reliable laptop rentals nationwide, and our project managers handle every detail to save you time and stress. We hear what's important to you — so you don't have to repeat it.

Ready to ask us these questions and get your laptop rental started? Give us a call at (877) 633-8866 and we'll be happy to answer everything you're still wondering about.