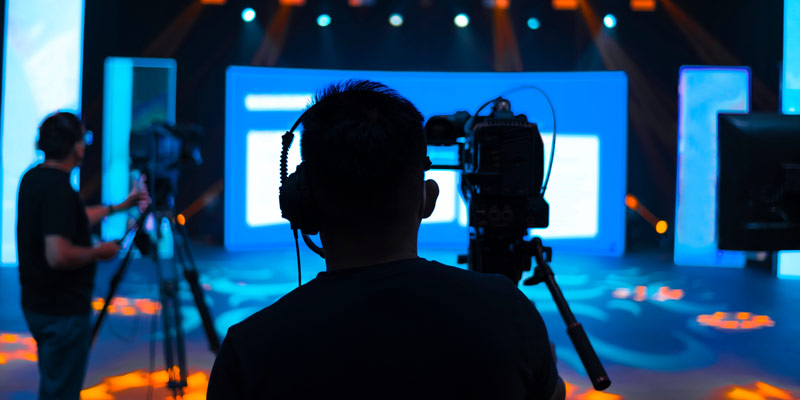 Our days are spent helping our clients bring their events to life, and answering the many questions that pop up along the way. And lately, no topic brings up more questions than hybrid events.

Although we've been producing hybrid events since 2008, they've exploded in popularity since 2020. In fact, 64% of planners say they plan on hosting hybrid events post-pandemic. But hybrid events have less precedent across our industry than in-person or virtual, causing all kinds of (understandable!) confusion.

That's why we've gathered all the questions we hear the most from our clients, and put them together in one place for you. Did we miss one of your top questions? Don't hesitate to reach out! We'd love to help get it answered.

1. Do our in-person and virtual audiences have to interact or network with each other?

No. There are a lot of good reasons to keep them separate, actually. People typically want the experience they signed up for. Meaning, if they registered to attend in-person, they're going to want to focus fully on the full in-person experience.

Also, while there are many software solutions that allow for your in-person and virtual audiences to chat or network, it's difficult to pull off well. Audience members are usually more-than-happy to network with just their fellow in-person or virtual viewers.

Keep in mind that one popular option is to keep networking and chatting interaction separate, but still allow both audiences to participate in live polling and Q&A at the same time. This is typically done by using an event app. This allows your whole audience to feel fully engaged in the sessions at the same time.

2. Do the in-person and virtual parts of our hybrid event need to happen at the same time? 
Not necessarily. While most people think of hybrid events as taking place all at once, there's lots of flexibility. For example, you can have the in-person portion of your event, and then the day or week after, your virtual audience can experience their own event plus some of the recorded, "on-demand" content from the in-person event. 
Here's another example: Imagine the main keynote happens for both audiences at the same time. However, the rest of the hybrid event takes place as weekly 1 hour events spread over a month to be more in line with how virtual attendees tend to connect. Meanwhile, you keep the in-person portion to one full day where people can mingle and network all at once.

Sometimes, we call this format an "asynchronous hybrid event," because both portions are part of the same event, but take place at different times for different audiences. The agendas can be customized for each group. Plus, hosting the virtual and in-person portions on different days or times takes some of the pressure off your team, and lets them focus on one experience at a time.
3. What's the difference between robotic and non-robotic cameras? Why would you pick one over the other?
Overall, robotic cameras are trending and growing in popularity. One of the biggest advantages of robotic cameras is that they can be positioned where humans cannot. They're great in a small space, for example a surgical operating room. The smaller footprint is also helpful for larger events if you don't want three cameras and operators between your stage and your audience, for example, blocking the views of the stage.
They're also advantageous because they can cut down on the amount of technicians needed onsite by not requiring a camera operator at each camera position, but rather using a single robotic camera operator for all cameras. This can sometimes provide a cost savings, but is also helpful to lower the risk of COVID transmission by having fewer people onsite.  
The disadvantages of robotic cameras is they're typically more expensive than regular cameras (the equipment itself, with technician labor aside). They also can't do smooth pans/zoom movement as well as an operator can, so they aren't a great fit for an event in a large ballroom with a presenter on stage who is pacing back and forth, for example. 
They're much better for smaller rooms where everyone is seated. Imagine an executive meeting where the camera is placed in the middle of all the tables, and there are set presets for each seated position so the camera moves automatically to each person.

A technician setting up a non-robotic camera before a hybrid event.
4. What are our options for audience Q&A? 
The first option is for all audience members to submit questions through your event app. In-person attendees submit through the app using their phones (or rented iPads). Virtual attendees will already be logged into the app in order to watch the event, and they submit the questions there.

You can also have in-person attendees ask their questions into a microphone. The key element here is that they speak into a microphone and don't just yell it out, so virtual attendees can hear the question. We recommend emphasizing this to your in-person audience before Q&A begins. The microphones themselves can be located and configured in a variety of different ways, depending on your event. 
5. How can we keep our virtual audience engaged? 
So many options! The most common engagement strategy is to allow virtual audience members to submit questions and participate in polls alongside the in-person audience.

Another option we recommend is to create a VIP experience for your virtual audience. A few examples of VIP options:
Create an exclusive Q&A roundtable with your top speakers where virtual members get to ask their questions

Add a gamification element in the virtual platform you're using. For example,

virtual trivia or another game.

Give away a prize and ship it to the winner's home

Send them a box of goodies, or a voucher for a delivered meal 
One other way to engage your virtual audience is to create a spot for virtual attendees to build community. For example, use the lounge feature of your virtual event platform, or create a Slack or Discord group for people to connect before and after the event.

Here are 10 more ideas for virtual audience engagement.
6. Can we bring virtual audience members on screen when they want to ask their questions?

Yes. There are many ways to configure this. You will need projection screens or monitors on your stage that display the virtual audience member for your in-person audience to see. 
You will also need to make sure you're using a hybrid event platform that allows for an audience member to join in on "stage" temporarily. A dedicated member of your team or your AV partner's team will need to be moderating the questions, and pulling the audience members up on stage via the event app.

Talk to your AV partner about the best ways to invite your audience members on screen, and they'll be able to figure out a seamless solution for you.

7. A few of our speakers can't make it in-person. Can they still be part of a panel?
Yes. Your in-person speakers can have a conversation with any speakers who need to be remote. We can add projection screens or monitors to your stage that allow for them to be "onstage" with your in-person presenters. Meanwhile, your virtual audience will be watching everyone seamlessly through your event app.

This is a great option, and lets you pull in amazing speakers from anywhere in the world! Here are a few examples that help you visualize what this can look like:

Source: C2 Montreal // BizBash
8. Why does extra gear and budget need to be added for a hybrid event?
Think of it this way: If you see a live newscast happening on the street, the news truck is right there beside the reporter because there's a lot of equipment packed inside. Even for a 30 second live video clip, a whole van is required.
It's a similar concept for live hybrid events — a lot more equipment and specialized technicians are required to connect the two portions than you may expect. There is also more set-up time required, as your team needs to test every element that makes a hybrid event possible. All this adds up to increased budget over in-person or virtual only events.

9. How do we sell a hybrid event to our stakeholders, who don't yet see the benefit of going hybrid?

Yes, it comes with increased cost. But there are increased benefits, too. Hybrid events have the benefit of in-person connection. They also have the benefit of increased reach and inclusivity that virtual events bring. In short, more people can participate in your event, in the format of their choosing. 
Also, incorporating a virtual portion creates invaluable post-event data for your sales and marketing team. Here is some more info on breaking down hybrid event ROI to your stakeholders.

10. Can an AV company handle the camera, give us the feed, and we will handle managing streaming within our normal video conferencing system (like Zoom or Teams)?

Yes, this is possible. However, there are a lot of risks associated with this option. We recommend having your AV partner manage both the camera and the stream within the program. There is less room for miscommunication. 
There is also easier troubleshooting if one team is handling all the elements. That's because your AV company will have someone logging in remotely to monitor the sound/quality within your video conferencing system. They'll use a headset to communicate with the AV crew in the room to immediately let them know of any adjustments or changes that need to be made to sound or cameras.

Overall, while it may save money to have your AV company not work within your event app, it is safer for them to handle streaming within the app as well. 
11. Will there be an obvious delay between the in-person and remote portions of our event? For example, between remote and in-person speakers talking to each other? If so, how do we manage it?

In terms of presenters speaking to each other, there should be no perceptible delay. Your AV partner will likely bridge them in via a low latency means, for example Zoom or Streamyard. 

Depending on the platform, though, there will be a delay for the remote audience of 15-30 seconds, minimum. (One exception is Zoom Webinar, which doesn't require sending an RTMP stream to a remote server, which adds significant delay.) Talk to your AV partner about what to expect on your specific hybrid event platform.

The biggest reason you may need to be aware of this delay is if you're planning to do live polling / audience response, or playing a game. The local and remote audiences will be seeing that content at slightly different times, so it's something to be aware of and plan for.
---
Are you planning a hybrid or virtual event? We'd love to learn about it! Reach out to us here to learn how we can produce your hybrid, virtual, or fully in-person event in any city nationwide.