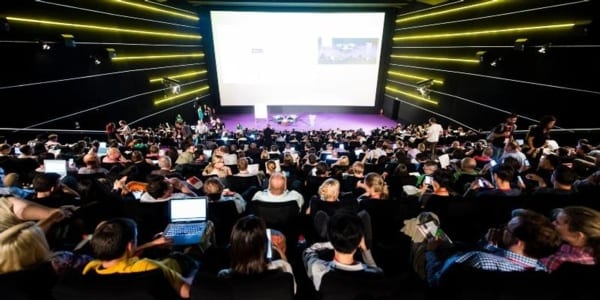 Before you even read this list, go listen to the first 10 seconds of "Ain't No Mountain High Enough" by Tammi Terrell and Marvin Gaye. Go on, we'll wait. Those first few seconds have so much rhythm and emotion, it's impossible for your foot to not start tapping juuussst a little, and for your energy to creep upwards.
Event planners have so many elements to coordinate that walk-on music might be at the bottom of your list. But music is one of the best tools you have for setting the right energy as your presenters walk onstage. Combined with great lighting, stage design, and high-quality sound, just a few seconds of the right song sets your keynote speaker or other presenters up for a successful talk that your audience remembers.
Do you Need a License to Play Music at an Event?
First, a note about licensing. For corporate events, you have to make sure you have the correct license to play copyrighted music. There are two organizations that meeting and event planners typically license music from — BMI and ASCAP. Both organizations license songs to businesses and then pay royalties to artists directly. You can usually get blanket coverage for a set amount of time, and the fees are based around how many attendees will be listening to the music.
This might seem like a lot of hassle for just playing just a few measures of a song. But keep in mind you may be able to use a song you license for recurring events you have in different locations. You can also use the song as a presenter walks offstage, so the energy stays strong as the presentation ends.
Plus, if you're hosting a hybrid event, you can use it for transitions for your hold slides when there are short breaks, or your presenters are walking on or off stage.
Best Walk-On Songs for Corporate Events
1. September, Earth, Wind & Fire
It's been a long day in a hotel ballroom. Is there a song that can energize people more than this classic?
2. About Damn Time, Lizzo
If you're trying to pump positivity through the venue speakers, turn the volume up on this one. Young, old, on TikTok or not, this song exudes high-energy and fun. You will likely want to opt for a radio-edit version.
3. Train in Vain, The Clash
Feeling more of a rock energy? This song by The Clash works well as background walk-on music.
4. Levitating, Dua Lipa
An earworm for the ages. The chorus is instantly recognizable, and impossible to resist at least tapping your foot.
5. I Like You (A Happier Song), Post Malone and Doja Cat
The chorus of this song may be well suited for a more futuristic, tech-focused vibe.
6. Go Your Own Way, Fleetwood Mac
Instantly recognizable, with a calmer tone than more recent pop songs.
7. I heard It Through the Grapevine, Marvin Gaye
A classic chorus to instantly lift the mood of a room.

8. Music for a Sushi Restaurant, Harry Styles
Great for a sushi restaurant — or for your speaker to make their grand entrance onstage.

9. Instrumental Pop Covers
If you're looking for something solely instrumental that still has high energy and your audience will recognize, consider one of the songs from Spotify's Instrumental Pop Covers playlist. It includes upbeat instrumental classics versions of oldies and recent hits.
Free and Low-Cost Music to Play at Events
If you're not able to get a license to play copyrighted songs, fear not! Your presenter absolutely does not have to walk on in total silence. There are many options for getting music you can legally play at events.
For example, the Free Music Archive has an incredible selection of public domain music (meaning there's no copyright restrictions). Buffer also has a great list of places to find free music. Plus, there are numerous stock music websites where you can purchase instrumental music for an affordable cost.
Finally, your AV provider can help you pick a great song for your event and will make sure it's cued up correctly so your presenter doesn't miss a beat.
*Photo credit: Flickr user Open Knowledge Festival 2014