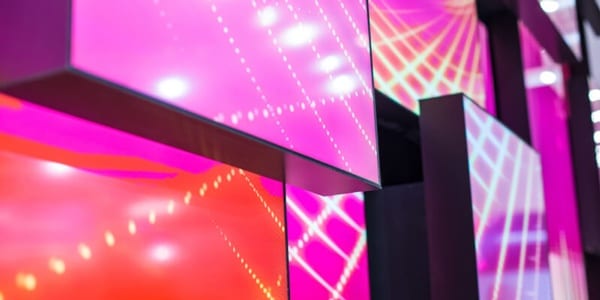 If you're in the market to rent a video wall, you've probably run into all sorts of confusing info. Here's the lowdown on LCD vs. LED video walls so you can make the right choice for your next conference, trade show, or other event.
Why are video wall rentals a worthwhile investment?
We're about to throw a whole lot of info at you. So let's first take a second to remember why both LED and LCD video walls are a good investment in the first place.
The old adage, "the bigger the better," is definitely true when it comes to AV. A video wall immediately symbolizes your company is established, and sends a subconscious message that people should take your business seriously. Video walls help you stand out, and compete with all the other businesses who are investing in splashy, eye-catching displays.
So, is a video wall a good choice for you? Here's what to consider.
Distance – The further your video wall is from viewers, the bigger it needs to be. If you'd like a video wall on the back of your trade show booth, you're going to need a different option than if you'd like a video wall as an entire backdrop of a general session stage. As one of your first steps, decide on distance.
Content – Do have the resources to produce custom content for your video wall? After you finalize the size of your video wall, your AV provider can tell you the exact dimensions and resolution your content needs to be. From there, a designer or video editor can create custom video wall content — which is the most important part of any great video wall.
Venue Type – An outdoor venue presents a different challenge than an indoor trade show without windows. There's a great video wall solution for lots of different venues, but be sure your venue and the basic event details are confirmed first.
Price – A video wall system is always going to cost more than monitors, projectors, or other digital signage. Make sure you have enough room in your budget for a video wall — which can start in the ballpark of $10,000 and go upwards from there.
What's the difference between an LCD and LED Video Wall?
Once reserved for stadiums and shopping malls, LED walls have become much more accessible for corporate events in recent years. An LED wall is made of many smaller LED panels. Each panel has hundreds of tiny light sources called "light emitting diodes" that can change color to create a large, seamless image.
Technicians can add panels until the LED wall is as massive as you need it to be. Random fact: The Suzhou Sky Screen in China is the largest LED video wall in the world, measuring 1,640 feet long — about 4.5 football fields.
Meanwhile, an LCD video wall is a large surface for video or images built from many LCD screens. You've interacted with an LCD screen before — they're on your laptop, TV monitor, and more. However, the LCD video wall screens are designed to run longer and have thinner edges, called bezels.
Technicians use special hardware and tools to stack the LCD screens on top of one another, and calibrate the wall so that an image shows up across every screen. Temporary LCD walls can usually only be about five screens across and five screens high.
Temporary LCD walls can be configured to be in many different sizes and shapes, both large and small, but typically don't go larger than five screens across and five screens high.
Comparison Between LED and LCD Video Walls
| | | |
| --- | --- | --- |
| | LED Video Wall | LCD Video Wall |
| Cost | Usually the most expensive video wall option. | Usually less expensive than LED walls. |
| Maximum Size | Our walls can use hundreds of LED panels, but since you can combine them in any width or height combination, there isn't necessarily a maximum size. | Our most popular LCD walls are about 16' wide by 10' tall. Also, when measuring your ceiling height, keep in mind that most walls don't go all the way down to the floor. So you'll need to add that into your total height need. |
| Appearance | People need to view LED walls from a distance to get the full picture. Think of them like a Lite Brite, or an impressionist painting — you get the full picture when you're further away. Though made of LED panels, there are no seams. | The image on an LCD wall will be sharper than on LED walls, especially while standing nearby, since it's made from HD panels. Will have very thin seams between each LCD screen, called bezels. |
| Content | Once you know the exact size, your AV provider will give you the exact dimensions and resolution so your media creator can customize your content. | Since an LCD Wall are basically fancy computer monitors, it's typically easier to create content. If your content looks great on a standard computer monitor with a 16:9 aspect ratio, it will look good on an LCD wall. Your AV provider will give you dimensions and resolution requirements once you decide on the size you need, and can also help you determine where the seams (or "bezels") will be so none of your image gets cut off. |
| Installation | Installation time will vary depending on the wall size, but can take from half a day to multiple days. Be sure to bake in enough time. | While usually quicker to install than LED walls, still be sure to schedule in at least half to a whole day. |
| Brightness | An LED wall can get face-meltingly bright, which makes them a great option for outdoor events. | LCD walls can be very bright, but are suited for indoors. (They're also not waterproof, unlike outdoor rated LED tiles.) |
| Power Requirements | Much lower than LCD — but you'll still need to make sure your venue has enough power capabilities. Your video wall provider can tell you how much power you'll need. | You need a lot of power. Each screen requires about 4amps. Make sure your venue has the power capacity, or make special arrangements. |
| Loading Requirements | Relatively lightweight and easy to transport in many pieces. | Comes in huge containers. A venue might need to have freight elevator, and you'll have to make sure you have enough space to get it into your venue. |
Still confused about the difference?
Imagine an LCD video wall is like a tray of lasagna. Reliable, beautiful, and sturdy — but you can only increase the size of a tray of lasagna so much. Affordable, but it has a limit in size.
Meanwhile, imagine an LED wall like a limitless, footlong sub. It might not be quite as satisfying and vibrant as a steaming tray of lasagna, but you can keep adding to it until it's as massive as you'd like.
Video walls are a great way to increase the professionalism and engagement of your event. As national video wall experts, we'd love to learn more about what you're looking for, and how we can help make your vision come to life.